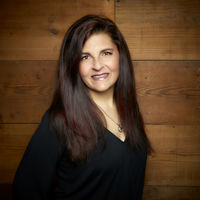 Jennifer Lampasona Tatum, Secretary
I was born and raised in Boston, MA (in Revere, just outside the city) by the most fun and loving parents, along with my sister - my best friend! We have a huge Italian family, and in our childhood, music was a constant in our home and for family celebrations. Growing up in Boston, I was lucky to experience music from local bands like Aerosmith, Boston, The Cars, Donna Summer, and Dropkick Murphys. Thus, my love for rock music, which continued throughout my high school years in Phoenix, AZ!
After moving to Texas with my parents and sister, I attended the University of Texas at Dallas and graduated with a business degree in 1993, then earned an MBA in Marketing in 1996. During that time, I met my husband Tommy and we married and had two boys - the loves of my life! For over 16 years, I served as a board member on the PTA at my sons' Plano ISD schools (VP Communications and event planning were the focus). I've also volunteered in my son's baseball organizations, the school band, and the drill team, along with various community organizations, including 3 years on the board of Young Men's Service League - Wildcat Chapter. For five years, I worked as a Marketing Coordinator for a speech and occupational therapy clinic in Plano.
In 2015, our family was challenged with my breast cancer battle. I was diagnosed in May, and after a double mastectomy, I powered through six months of chemotherapy. My husband and I are blessed to have incredibly supportive families who loved us through the whole process. As I finished my treatments, I knew that I would eventually shift my energy and "drive to survive" towards helping other breast cancer warriors. I just wasn't sure exactly where to focus that energy.
On May 29, 2016, I met April and the Breast Cancer Can Stick It! crew at Starplex (BFD show). I was just five months out of chemo - my hair was barely growing back! After chatting with April for a few minutes and hearing her story, I bought a shirt, and in that moment, I knew where I wanted to focus my energy. So, I started reading up on the foundation and following on social media. A nonprofit that combined rock music with the passion for fighting breast cancer? SIGN. ME. UP. I attended some fundraising events over the next few months. Then in 2017, I served as a volunteer for the first time at Drummathon. I loved everything about that day, and I realized I wanted to be part of the team. I became an office volunteer, and since 2019 I have served on the Drummathon Committee. I often talk about the blessings that resulted from my breast cancer journey, and meeting April is a big one!
It is an incredible honor to be asked to serve on the board of this foundation, and I am eager to continue working on its mission...to STICK IT to breast cancer!
Jennifer also is the Chair of the Drummathon Auction Subcommittee and serves on the Drummathon Committee.